Smoky Mountains Cabin Rentals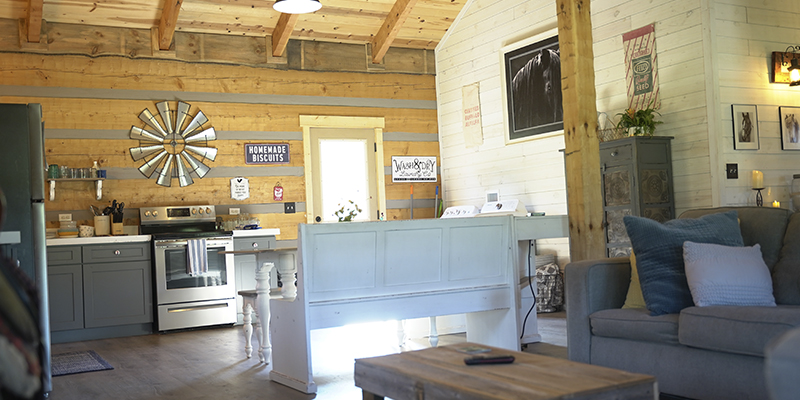 Smoky Mountains Cabin Rentals
Come experience the ranch life with us. Start with feeding the goats, sheep, potbelly pigs, and chickens! Your kids will love our petting farm. Then, experience a short, interactive lesson on how to groom a horse. Followed by lead rope rides on one of our horses around the arena for anyone in your party that wants to take part.
The Experience also includes a photoshoot while you're saddled up on your horse. All with the Great Smoky Mountains in the background! The Ranch Experience package is $150. View our catalog to see all that the Ranch Experience has to offer!
About Blairs Valley Ranch and A King's Lodge
THE FAMILY
We are The Reddell Family and are the proud owners of "A King's Lodge." The beauty of nature and the excitement of outdoor activity. Also, the peacefulness of the mountains and the bond of the family are so important to us. We care so much about these things, that sharing them with you and your family is a passion of ours. We also manage the Blair's Valley Ranch. The ranch is right across the street. So, feel free to come on over, introduce yourself, and meet our awesome horses and farm animals.
THE SMOKY MOUNTAINS
Encounter a diverse collection of cultures, landscapes, and personalities in East Tennessee. The region thrives as a hub of cultural activities, scenic views, and outdoor recreation. Nationally acclaimed as a top outdoor adventure destination! The Great Smoky Mountains National Park, which is also the most visited national park. Well known for its diversity of plant and animal life. The park contains more than 1,500 species of flowering plants. Also, is home to more species of trees than the rest of the entire continental U.S. combined. Tourists and locals alike enjoy hiking and mountain biking. Also, try kayaking through East Tennessee's most-talked-about jewel.
If you have any questions contact us here.  Also, be sure to follow us on Facebook!