Christmas in the Smoky Mountains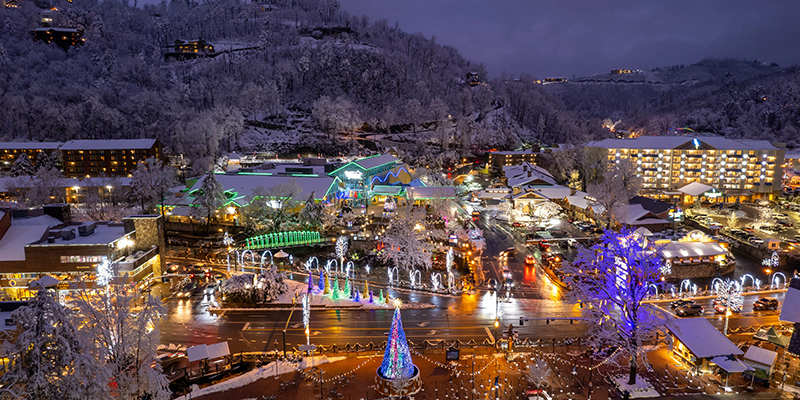 Christmas in the Smoky Mountains
Christmas lasts all December long in the Smoky Mountains. From incredible Christmas displays, to holiday shopping, to endless family-friendly entertainment. There are countless ways to celebrate Christmas in the Smokies. There's no better place to get into the Christmas spirit and spread the joys of the season than the Smoky Mountains.
Rent a Smoky Mountain Cabin in the Smokies
There's nothing better than the view of snow-covered mountains in the distance as you stand on the deck of your Smoky Mountain cabin.
Our Main Lodge sits on seven beautiful acres at the base of Cove Mountain. The lodge has five private bedrooms, five bathrooms and a large game room / bunk room. There is plenty of room for everyone to feel right at home! Our property continues on across the street, where our horses and farm animals live. One of our guests favorite pastimes is walking around, taking in the breathtaking scenery from many angles. A Kings Lodge is the perfect place to create memories that will last a lifetime!
Cherokee Hill cabin is a brand new, authentic Appalachian log cabin located on a private ranch in pristine Wears Valley. Nestled on the hillside of one of our gorgeous horse pastures, this quaint and cozy getaway is the perfect place to relax and take in the beauty of the surrounding Great Smoky Mountains. When you first pull up to your private gated oasis, you are greeted by our friendly horses and farm animals. Everything is brand new in this cabin including furniture, beds, etc. The cabin has two king bedrooms and two bathrooms and a sleeper sofa.
See a Christmas Show
In the mood for family fun that will keep you entertained for hours? You'll love celebrating the holidays by going to see a Christmas show in the Smoky Mountains. From comedy, to holiday classics, to incredible costumes and talent. You're in for an unforgettable performance when you see any of the Christmas shows in the Smoky Mountains. At some theaters, you'll be able to enjoy a delicious dinner along with the show! Here are some awesome shows you can catch when you spend Christmas in the Smoky Mountains.
Hatfield and McCoy Christmas Dinner Disaster
The Hatfield and McCoy Christmas Dinner Disaster show is a perfect show that'll get the whole family laughing. Spend your holidays watching an entertaining performance of two feuding families that try to set their differences aside to enjoy Christmas together. The show features holiday singing and dancing, surprising stunts and, of course, comedy. Also, you'll be able to devour a delicious homestyle feast of fried chicken, homemade bread, a specialty dessert and more!
A Comedy Barn Christmas
The Comedy Barn's famous Christmas show, A Comedy Barn Christmas, is the funniest show in the Smokies! You and your family will experience a perfect mashup of music, magic and comedy that will have you laughing until you cry. There'll be Christmas costumes, Christmas music and one-of-a-kind Christmas acts that will get you in the Christmas spirit. You can also add dinner to the show for an all-you-can-eat meal of pot roast, macaroni and cheese and more.