Embark on an Adventure: Experience a Wears Valley Horse Ranch at A King's Lodge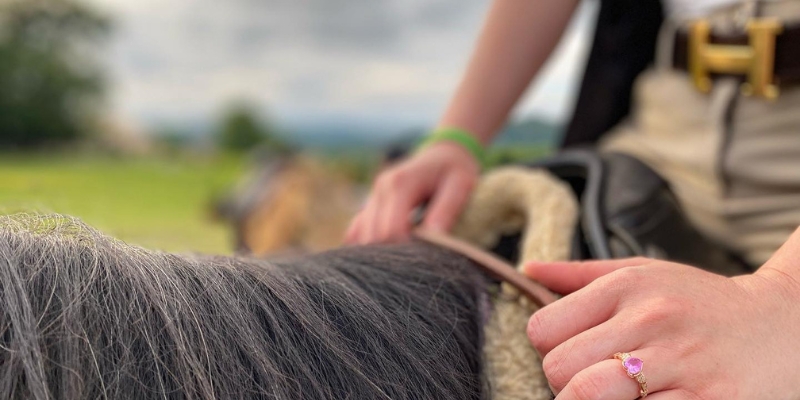 Embark on an Adventure: Experience a Wears Valley Horse Ranch at A King's Lodge
Escape the chaos of city life and immerse yourself in the serenity and thrill of Wears Valley, Tennessee. A Kings Lodge invites you to delve into a world of tranquility, excitement, and natural wonders, all nestled against the majestic backdrop of the Great Smoky Mountains. Brace yourself for an unforgettable countryside getaway, where horse enthusiasts can revel in the opportunity to interact with these magnificent creatures. Read along to learn more about how you can embark on an adventure: experience a Wears Valley horse ranch at A King's Lodge.
Our lodge boasts a remarkable feature – our enchanting horses. With grace and beauty, they add an extra touch of magic to your countryside retreat. Whether you're a seasoned equestrian or a novice taking their first steps into the equine realm, the connection with our horses will undoubtedly enhance your experience at our resort.
HORSE GROOMING: A Cathardic Adventure
While grooming a horse may seem like an ordinary activity, it holds therapeutic powers beyond belief. At our ranch, grooming goes beyond a mere session; it becomes a journey. With expert guidance from our team, you will engage in grooming and riding exercises that are both serene and natural. Through this unique experience, you'll acquire new skills – both mentally and physically – in a safe and enjoyable environment.
LEAD-ROPE HORSE RIDES: Unleash Your Inner Equestrian
Embark on the perfect beginner's horse riding adventure with lead-rope horse rides. Ideal for those new to horseback riding, this experience allows you to sit atop a horse while an instructor leads you through the picturesque landscape. With heightened control and a relaxed atmosphere, you can fully immerse yourself in the joy of horse riding. Our team will ensure your safety and comfort, allowing you to embrace the thrill without worry.
EXPLORING WEARS VALLEY: A Horseback Adventure
Wears Valley, with its scenic trails and invigorating atmosphere, offers the perfect backdrop for horseback riding adventures. As you traverse the valley on horseback, the magnificence of the surrounding nature unfolds before you, offering a unique perspective, unreachable by foot or vehicle. The crisp mountain air, the rustling of leaves, and the gentle rhythm of your horse beneath you all contribute to an unforgettable riding experience. These excursions are led by experienced guides, ensuring a safe and enjoyable journey through the heart of Wears Valley.
STAY WITH US: Cherokee Hill Cabin – Your Gateway to Unforgettable Memories
Why not make your entire vacation a truly memorable experience? Choose a Wears Valley cabin rental. Stay at our sensational Cherokee Hill Cabin, nestled on a private ranch in the pristine Wears Valley. This newly constructed, authentic Appalachian log cabin offers the perfect blend of comfort and rustic charm. Located hillside, overlooking our stunning horse pastures, this cozy sanctuary provides the perfect opportunity to soak in the awe-inspiring beauty of the Great Smoky Mountains. As you arrive at your private gated oasis, our friendly horses and farm animals will warmly welcome you. With brand-new furnishings and two king bedrooms, this cabin ensures a restful and unforgettable stay.
Unleash Your Inner Adventurer at A King's Lodge
Experience the thrill of an outdoor adventure and the comfort of a cozy retreat at A King's Lodge. From experiencing ranch life to tranquil horseback rides through the scenic Wears Valley, we cater to all kinds of adventurers. Our Cherokee Hill Cabin, with its rustic charm and modern comfort, serves as the perfect base for your unforgettable adventure in the Great Smoky Mountains. So why wait? Embark on a journey of discovery, excitement, and serenity with us. Your adventure is just a reservation away!
Stay up-to-date with all our latest news by following us on Facebook. Dare to escape the ordinary and embark on an adventure of a lifetime!