Experience the Magic of Fall Cuisine at A Kings Lodge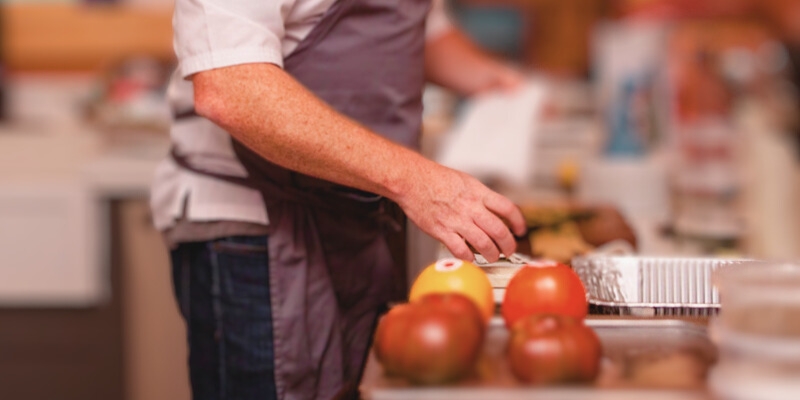 Experience the Magic of Fall Cuisine at A Kings Lodge
Fall is a spectacular time to visit A Kings Lodge. As the lush, green leaves of the Great Smoky Mountains transform into vibrant hues of red, orange, and yellow, our farm resort becomes a haven for those seeking to immerse themselves in the beauty of nature. The crisp, cool air of autumn is ideal for hiking and exploring the surrounding landscapes. Evenings at the lodge are equally magical, with the warm glow of the setting sun blanketing our farm, creating a peaceful atmosphere that perfectly encapsulates the essence of rural Tennessee. Read on: Experience the Magic of Fall Cusiene at A Kings Lodge…
Season's Bounty Awaits at A Kings Lodge
Fall at A Kings Lodge is not only a feast for the eyes but also the palate. As the leaves change so does the local menu, reflecting the richness and diversity of the season's bounty. Autumn brings a harvest of local Tennessee products like sweet apples, crisp pumpkins, and hearty squashes, all of which showcase their full flavors in our regional dishes. The cool weather also marks the return of comfort foods such as hearty stews and baked goods, warming your soul as much as your stomach. Dining at our local restaurants during this time means relishing meals that are as fresh, vibrant, and comforting as the season itself.
Private and Custom Culinary Experiences in Wears Valley
At A Kings Lodge, we believe that a memorable vacation is not just about the sights you see, but also the experiences you enjoy. That's why we offer personalized culinary services to enhance your stay. To cater to your group's unique tastes and dietary requirements, we provide the option of a private chef or catering services. Our professionally trained chefs will deliver an exquisite dining experience using fresh, local ingredients in the comfort and privacy of your lodge. Whether it's a hearty breakfast to kickstart your day, a picnic lunch for your hiking adventure, or a sumptuous dinner under the stars, our chef and catering team will ensure your meals are as unforgettable as your stay.
Outdoor Cooking at Wears Valley Private Resort
For those who find joy in crafting their own culinary delights, A Kings Lodge is fully furnished to accommodate your gastronomic endeavors. Each lodge is equipped with a well-appointed kitchen, complete with all the utensils and appliances you might need to prepare your favorite meals. If you're keen on enjoying the great outdoors while you cook, you'll be pleased to know that outdoor grilling facilities are available for those perfect barbecue evenings. And as the day turns into night, our fire pits become the ideal spot to roast marshmallows or cook campfire meals under the starlit Tennessee sky. At A Kings Lodge, we ensure every aspect of your stay is catered to, including your love for cooking.
Wears Valley Dining and Restaurants
Wears Valley, Tennessee is a haven for culinary enthusiasts, offering a diverse selection of dining options that cater to varied palates. From home-style Southern cuisine to modern American fare, the local restaurants reflect the region's rich culinary heritage and innovative spirit. Favorites include the quaint eateries serving mouth-watering pancakes, succulent BBQ ribs, and award-winning apple pies. For lovers of international cuisine, there are places offering Italian classics, Mexican favorites, and Asian delicacies. And for those who prefer a farm-to-table dining experience, there are establishments that serve dishes prepared using fresh, locally sourced ingredients. Whether it's a quick bite on the go, a casual meal with the family, or a romantic dinner for two, there's a dining option in Wears Valley to suit every occasion.
A King's Lodge
There's no better way to experience the refreshing beauty of fall than with a stay at A Kings Lodge. Nestled in the heart of Wears Valley, Tennessee, our lodges offer not just luxury accommodation but also a gateway to the region's vibrant culinary scene. Whether your preference is for homely Southern cooking, international flavors, or farm-fresh meals, the dining options here are as varied as they are delightful. So come and immerse yourself in the captivating allure of fall, feast on the diverse culinary offerings, and create unforgettable memories with A Kings Lodge. We look forward to welcoming you.