Experience the Beauty of Fall in the Smokies at Kings Lodge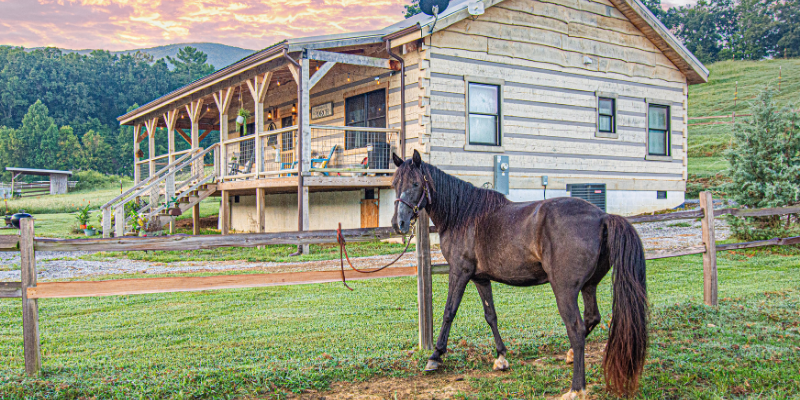 Experience the Beauty of Fall in the Smokies at Kings Lodge
The vibrant colors, crisp air, and stunning views of the Smoky Mountains make for the perfect Fall escape. Imagine being nestled within the mountains at a charming lodge, surrounded by nature, and embarking on a customized horseback riding experience. Kings Lodge in the Smokies is just the place to fulfill this picturesque scene. In this blog post, we'll take a deeper look at what makes horseback riding at Kings Lodge so unique and why it should be on your Fall to-do list. Read on: Experience the Beauty of Fall in the Smokies at Kings Lodge…
Horseback Riding at King's Lodge
Kings Lodge offers a one-of-a-kind horseback riding experience customized for each guest. Unlike public riding stables, Kings Lodge offers personalized rides exclusively to those staying on the property. This allows for a more intimate and enjoyable experience for you and your party. There's no need to be nervous if you're a beginner because the farm offers riding experiences for all levels. They have a diverse group of friendly horses who are sure to make you feel at ease and confident.
Stunning Scening Views
Fall is recognized as the best time to go horseback riding in the Smokies because of the stunning scenic views. Whether you are a beginner and want to ride around the farm to see the leaves change color or an experienced rider looking for an adventure, Kings Lodge offers it all. You can traverse the mountains on horseback while enjoying the majestic views around you. It is a one-of-a-kind experience that you won't find in many other places.
A Different Pace
At Kings Lodge, guests are encouraged to develop a special connection between the horse and rider. It's more than just about taking a horseback ride, it's about a unique and personal bond between two animals. Horseback riding brings peace and relaxation, allowing you to be one with nature and really experience life at a different pace. The friendly staff at Kings Lodge is always available and eager to help you make the most of this connection with your horse and with the beautiful Smoky Mountains.
Ride with Kind's Lodge
Make sure to inquire about all the different equine experiences that Kings Lodge offers during your stay. They offer everything from trail rides and pony rides to riding lessons for those looking to improve their skills. Moreover, the horses are treated with the utmost care and attention. They are well taken care of, and treated like family. You can be sure that when you ride with Kings Lodge, you're riding with happy and well-cared-for horses.
Escape to the Smoky Mountains this Fall and experience the beauty of nature from atop your very own horse. A King's Lodge offers customized horseback riding opportunities exclusively to their guests. Whether you're a beginner or an experienced rider, Kings Lodge has something for you. The picturesque backdrop of the vibrant leaves and stunning mountain views will transport you to another world, while the gentle nuzzle of your horse will ground you and provide a new sense of peace and relaxation. Book your stay today and experience horseback riding in the Smoky Mountains like never before!