Cozy Up This Fall at Our Wears Valley Ranch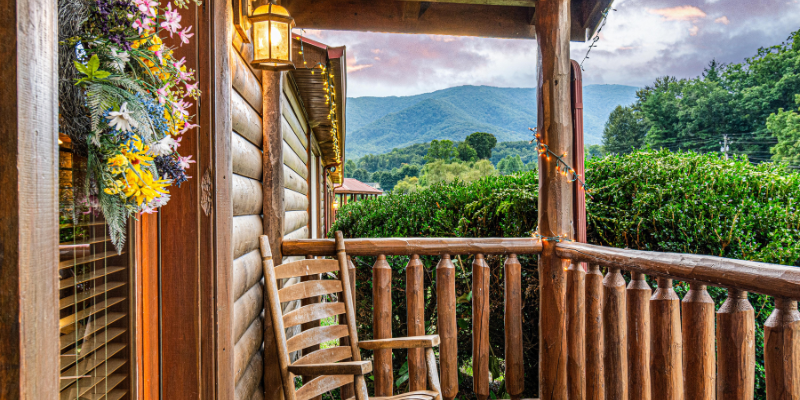 Cozy Up This Fall at Our Wears Valley Ranch
As the vibrant hues of fall grace Wears Valley, there's no better time to create lasting memories at A King's Lodge. Picture yourself nestled in our updated cabins, where rustic charm meets modern comfort. Imagine spending crisp autumn evenings around a crackling fire pit, immersed in the serene beauty of changing leaves. Experience the thrill of horseback riding through scenic trails, as the crisp air carries the scent of the season. This is more than a vacation – it's your opportunity to embrace the quintessential autumn experience at A King's Lodge. So, what are you waiting for? Cozy up this fall at our Wear's Valley ranch.
Cherokee Hill Cabin
Cherokee Hill cabin is a brand new, authentic Appalachian log cabin located on a private ranch in pristine Wears Valley. Nestled on the hillside of one of our gorgeous horse pastures, this quaint and cozy getaway is the perfect place to relax and take in the beauty of the surrounding Great Smoky Mountains. When you first pull up to your private gated oasis, you are greeted by our friendly horses and farm animals. Everything is brand new in this cabin including furniture, beds, etc. The cabin has two king bedrooms and two bathrooms and a sleeper sofa.
Fall Nights
Spend your evenings huddled around our blazing fire pit, delighting in the warmth and camaraderie. As day turns to night at A King's Lodge, make evergreen memories under the starry Wears Valley sky. Delight your palate with our chef-curated delicacies, expertly crafted to incite your taste buds, or indulge in your favorite campfire foods, grilled to perfection. Nothing beats the blend of the crackling fire, the aroma of delicious food and the laughter of loved ones echoing through the crisp, autumn air. This is more than just a meal – it's a cherished moment, a testament to familial love, friendship, and the irreplaceable joy of togetherness.
Horseback Riding
At A King's Lodge, we take pride in curating a unique, personal horseback riding experience through the breathtaking Smoky Mountains. Whether you're an eager novice or a seasoned rider, we tailor our expeditions to match your skill level and desires. Our experienced guides, well-acquainted with the terrain and local wildlife, will lead you on a journey of discovery, traversing hidden trails and unveiling astonishing vistas. We pay meticulous attention to every detail — from selecting the perfect horse for your comfort and security, to planning the route to ensure you witness the best of the autumnal spectacle. This is more than just a ride – it's your chance to intimately connect with nature while forging an unforgettable bond with these majestic creatures.
As the sun sets on your day at A King's Lodge, we hope you carry home not just memories, but stories; stories of laughter, shared meals, awe-inspiring views, and the simple joy of being surrounded by nature and loved ones. While our amenities and activities are thoughtfully curated to enhance your stay, the true magic lies in the serenity and beauty of our location. Wears Valley and its autumnal charm await your return. So, until we meet again, may the memories of your time with us keep the spirit of A King's Lodge, and the majestic Smoky Mountains, alive in your heart.