Horseback Riding at A King's Lodge in the Smoky Mountains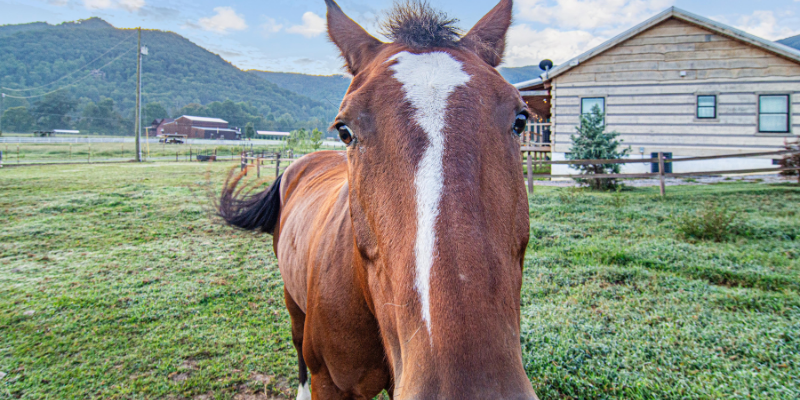 Horseback Riding at A King's Lodge in the Smoky Mountains
Discover the vibrant colors, crisp air, and breathtaking views of the Smoky Mountains this fall. A King's Lodge invites you to escape to an enchanting retreat nestled among nature. Immerse yourself in a customized horseback riding experience that will leave you in awe. In this blog post, we will delve deeper into what makes horseback riding at A King's Lodge a truly unique and unforgettable adventure.
Unparalleled Customization
A King's Lodge is dedicated to providing a one-of-a-kind horseback riding experience tailored for each guest. Unlike public riding stables, our personalized rides are exclusively offered to those staying on the property. This allows for a more intimate and enjoyable experience, ensuring cherished memories for you and your party. Beginners need not fret, as we cater to riders of all levels. Our diverse group of friendly horses will put you at ease and instill a sense of confidence.
Captivating Fall Experience
Fall in the Smoky Mountains is an unparalleled time to embark on a horseback riding journey. Witness the picturesque transformation of leaves while traversing through our scenic trails. Whether you seek a leisurely ride to admire the changing colors or crave an exhilarating adventure, A King's Lodge caters to all. Ride atop the mountains and immerse yourself in the majestic beauty that surrounds you. This exclusive experience sets us apart from the rest.
Forging a Bond
At A King's Lodge, we encourage guests to cultivate a special connection between rider and horse. It goes beyond a mere horseback ride; it's about fostering a unique and personal bond between two remarkable beings. Horseback riding provides tranquility and relaxation, allowing you to harmonize with nature and embrace life at a different pace. Our friendly staff is always available, and eager to assist you in making the most of this extraordinary connection amidst the beauty of the Smoky Mountains.
Explore a Myriad of Equine Experiences
During your stay at A King's Lodge, be sure to inquire about our various equine encounters. We offer an array of options, ranging from trail rides and pony rides to riding lessons for those seeking to refine their skills. Rest assured, our horses are treated with the utmost care and attention, becoming cherished members of our extended family.
Indulge in the splendor of nature atop your very own horse this fall as you escape to the Smoky Mountains. A King's Lodge beckons you to experience the unrivaled beauty and tranquility of horseback riding. Join us for an unforgettable adventure, exclusively tailored for our esteemed guests.