Smoky Mountain Farm Resort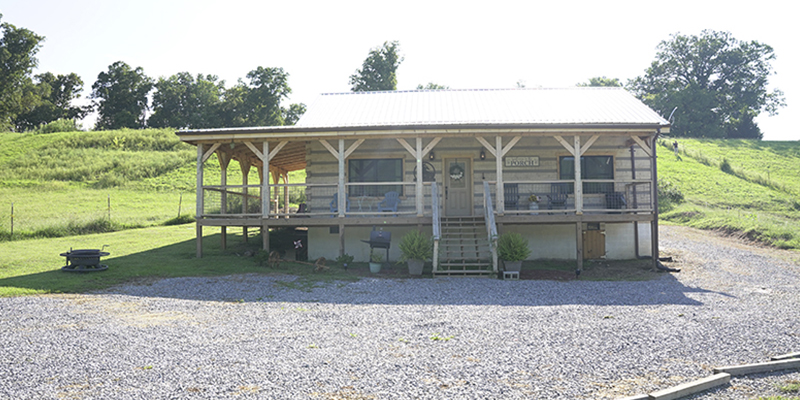 Smoky Mountain Farm Resort
We are the Reddell Family and we truly believe that hospitality is an art, and often a lost one at that. When you are a guest at our property, we want it to feel like visiting an old friend or going back to a favorite childhood place. The peacefulness of these mountains and the bond of family is so important to us. Also, we are incredibly grateful to be able to share this special property with visitors from all over the world. It truly is a place to create memories that will last a lifetime. During your stay here, you will definitely see us working around the farm, so please come on over and say hello!
The Property
The original farm consisted of 300 acres of this gorgeous valley. Currently, we now have 23 acres that spans on either side of Clabo Rd. On one side, the main Lodge sits on 7 acres with breathtaking mountain views. This is where we hold the majority of our weddings, family reunions, and more. There is a large covered pavilion in the back that has hosted some incredible events! Just across the street is where our Cherokee Hill cabin is located as well as all of our farm animals and horses. Our guests always love to be able to take a nice walk around and take in the beautiful views and say hi to all of our friendly animals! All of our horseback riding, farm experiences and fresh egg collecting happen on this side of the property. We hope you will take advantage of all we have to offer during your stay!
The History
Many of our guests think the home is newer but it was in fact built over 115 years ago! The original farmhouse was constructed in 1906 by Mr. Hammer Clabo (if you look at the 2 story section of the lodge you can see how the original home looked). Hammer, his wife Mary Jane, and their daughter Mattie Pearl had relocated to Wears Valley from the Mill Creek area. Hammer's brother, J. Wesley Clabo, also lived on the farm and they ran a dairy for quite a few decades on the property. Wesley ran a novel dairy farm at the time as he utilized steam pasteurization in his milk production. He supplied nearby Gatlinburg with the majority of its milk supply during the 1920's and 30's. Mattie Pearl went on to marry Stacie King and they had a son, James King. He grew up on the farm and after returning from the Army, he helped transition the farm from dairy to beef, and then eventually on to farming tobacco and wheat in the 1950's. James King married Emma Jean Huskey and they had one son, James King Jr. Mr. King Jr. was the 3rd generation of his family to grow up on the farm, and he went on to marry Judy Ann Curtis and eventually move out of Tennessee. They did still own the property and in 2006, they completely renovated the home to make the Lodge what it is today, a Lodge fit for a King! They sold the entire farm in 2014. Besides the original farmhouse, there are still some very old buildings on property. The small red rustic cabin that is currently our office was the original grain house built in the 1920's. The 2 back barns are original to the dairy farm, built in the early 1930's. The history of this special place fuels us to keep the "family farm" feeling going. We are still in contact with the King family. We love learning more and more about this historic gem that sits right in the heart of the Great Smoky Mountains. Thank you for being a part of our history!