Smoky Mountain Winter Adventures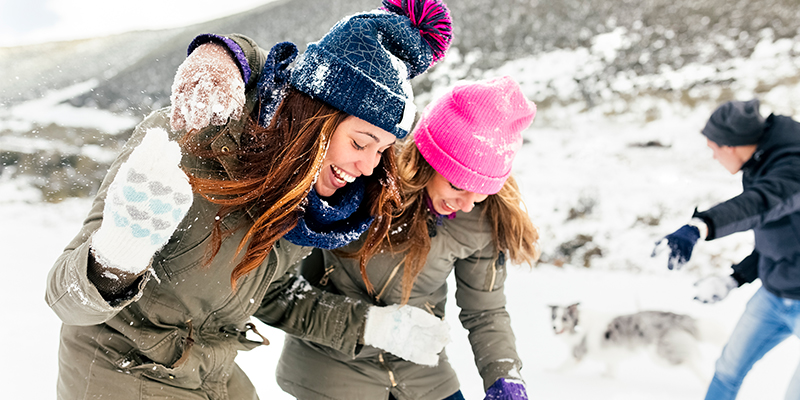 Smoky Mountain Winter Adventures
Head to the Great Smoky Mountains for an inspiring winter vacation. With fewer visitors and a lot less traffic, you'll have easy access to gorgeous mountain views and exciting winter activities. Ditch the binge-watching and step outside to breathe in the crisp mountain air. An invigorating trip like this is just what you need to kick off the new year with a fresh start. Check out our top favorite activities and discover why a Smoky Mountains winter holiday is exactly what you need! While you're planning your trip to the beautiful Smoky Mountains, be sure to book your stay with us at A King's Lodge.
Walking in a Winter Wonderland
Hiking isn't just a springtime activity around here. A Smoky Mountains winter hike is the perfect way to enjoy the great outdoors. The trails are clear of crowds, and it feels like you have the whole forest to yourself. Just be careful of ice and snow along the trail and dangling icicles when you walk under cliffs. And dress warm and cozy!
Trails like Andrews Bald, Charlies Bunion, and Porters Creek will inspire you with their natural beauty. And if you know where to look, you might just find a little winter magic. Visit Cades Cove to see a couple of spectacular frozen waterfalls. Laurel Falls and Abrams Falls are a wintry delight with their snow and ice sparkling in the glistening daylight.
A Winter Drive Through Cades Cove
Speaking of Cades Cove, you'd be hard pressed to find a more picturesque area of the Great Smoky Mountains National Park any time of year. But when winter blankets the area in snow, it's something truly amazing. In the high tourist season, traffic along the 11-mile loop can get backed up, but with fewer crowds in the winter, the road is all yours. Enjoy a leisurely sightseeing drive as you take in the beautiful landscapes filled with wildlife. All the animals who aren't hibernating are out enjoying the open fields. White-tailed deer can be spotted grazing in the mornings. Add in the snow capped mountains in the background and a few historic cabins dotting the valley, and you've got photo-ops that will light up your social media feed.
Our Main Lodge sits on seven beautiful acres at the base of Cove Mountain. The lodge has five private bedrooms, five bathrooms and a large game room / bunk room. There is plenty of room for everyone to feel right at home! Our property continues on across the street, where our horses and farm animals live. One of our guests favorite pastimes is walking around, taking in the breathtaking scenery from many angles. A Kings Lodge is the perfect place to create memories that will last a lifetime!