Summer 2023 Getaway Wears Valley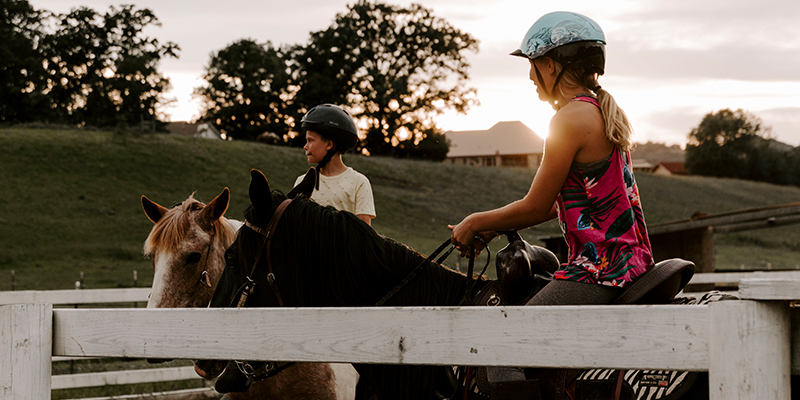 Summer 2023 Getaway Wears Valley
Our Main Lodge sits on seven beautiful acres at the base of Cove Mountain. The lodge has five private bedrooms, five bathrooms and a large game room / bunk room. There is plenty of room for everyone to feel right at home! Our property continues on across the street, where our horses and farm animals live. One of our guests favorite pastimes is walking around, taking in the breathtaking scenery from many angles. A Kings Lodge is the perfect place to create memories that will last a lifetime!
Experience White Water Rafting
There are several whitewater rafting outfitters located right outside of the Smokies.
Better yet, summer is one of the most reliable times to go whitewater rafting in the Smoky Mountains. There are
regularly
scheduled dam releases on the Little Pigeon River.
This excellent whitewater destination has 12 total Class III and Class IV rapids with memorable names like Double Reactionary, Rock & Roll, Powerhouse, and Snap Dragon
.
For younger children, the Upper Pigeon River is ideal for an introduction to whitewater rafting
. If you want more of a thrill, be sure to book a tour on the Lower Pigeon River.
Many whitewater outfitters also offer zip lines and other outdoor activities to enjoy during your visit
!
See Beautiful Waterfalls
Some of the most popular destinations in the Great Smoky Mountains National Park are its impressive waterfalls. Better yet, summer is the perfect time to visit the stunning waterfalls of the Smokies!
After all, the cool mist from the falls and naturally shady locations create excellent places to cool off on warm, summer days.
Some popular summer waterfall hikes in the national park are:
Abrams Falls Trail
The Middle Prong Trail
Ramsey Cascades Trail
Spruce Flats Falls
Laurel Falls Trail
If you want to see beautiful waterfalls without hiking, check these excellent roadside waterfalls in the national park.
The Roaring Fork Motor Trail is a popular region for viewing waterfalls and several lovely cascades.
Cades Cove
While most visitors see Cades Cove in the national park from the comfort of their vehicle, why not bike the 11-mile loop road that skirts the valley's boundary.
Along the way, you'll see beautiful mountain views and pass by several historic homes, churches, and farms from the cove's early residents.
From May to September, the Cades Cove Loop Road is closed to vehicle traffic on Wednesdays and Saturdays before 10 AM. As a result, these mornings are the perfect time to bike the Cades Cove loop.
You can rent bikes for an hourly rate at the Cades Cove Gift Shop before the entrance to the loop road.