Wedding Venue in the Smoky Mountains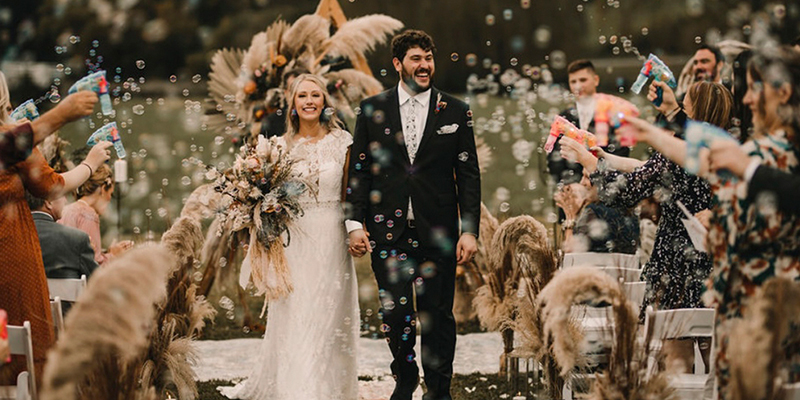 Wedding Venue in the Smoky Mountains
We know that your wedding day will be one of the most memorable days of your life, so we strive to make it as enjoyable and stress-free as possible. A Kings Lodge is a unique property with so much to offer, you and your guests will absolutely love the experience of your own private mountain destination. Keep reading more about our Wedding Venue in the Smoky Mountains.
2023 Wedding Trends
We'll all remember 2022 as the year of the post-pandemic wedding boom, but what does that mean for weddings in 2023? There were so many weddings in such a short space of time. This was following a period of tight restrictions. Now, we're about to see the biggest shift ever in the traditional wedding. 
2023 wedding trends 
are all about re-inventing the wedding to suit your needs and making it a real experience for your guests
.
From simple details like more tailored guest lists to much bigger considerations. The wedding trends for 2023 are set to shake up weddings as we know them.
Neutrals with a Pop of Color.
With lots of neutrals, the pops of color on your wedding day will really set your wedding apart. Candles and unique lights can really help add some warmth to the neutral palette as well. Amidst the mountainside backdrop, this would all be even more beautiful. A King's Lodge is the perfect wedding venue in the Smokey Mountains.
Film Photography
This is probably the biggest 2022 wedding trend we've noticed. Film photography is super popular right now.
Unique Wedding Dress Sleeves
We've been seeing a lot of puffy sleeves lately! Sleeves can be simple and smooth, three-quarter length, and slightly off the shoulder.
Pearls
Pearls are one of the best 2022 wedding trends we are seeing right now. There are a lot of fun, simple ways to incorporate pearls into your wedding look. Pearl cluster earrings are popular and such a statement.
Alternative Flower Girls
In 2022, we've noticed that a lot of couples are finding alternatives to a traditional flower girl. We've seen people have their grandmas be flower girls, or choose a flower man from their close friends as well. You also have the choice to opt out of having flower girls at all.
A King's Lodge is the perfect wedding venue in the Smokey Mountains. View our catalog here. Also, be sure to follow us on Facebook!